"For the moment all discipline seems painful rather than pleasant, but later it yields the peaceful fruit of righteousness to those who have been trained by it" (Hebrews 12:11, ESV).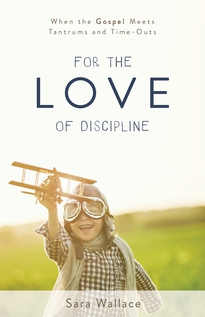 Discipline. Does that word carry a positive or negative connotation for you? What is "discipline"? What does it look like in the context of parenting? Should one do it? If so, when and why?
Does discipline differ from punishment? If so, how?
Perhaps few subjects carry the weight of this one, with a diversity of strong opinions running the gamut, and so, we tend to avoid talking about it, and yet, discipline is hard work and a thankless job with eternal consequences, so we could really use support and encouragement along the way. To this end, Sara Wallace joins the sea of voices with
For the Love of Discipline
.
Building upon the foundation laid by folks like Tedd Tripp (
Shepherding a Child's Heart
) and Elyse Fitzpatrick (
Give Them Grace
, previously reviewed here), Sara supplies practical applications for those who already have a solid foundation in applying the Gospel to a child's heart. She successfully combines sound theology and amusing word pictures for a book that is fun, gracious, and edifying. Again and again, Sara points parents to Christ's finished work and demonstrates the difference that the Gospel makes in one's parenting.
At approximately four and a half pages per chapter
, For the Love of Discipline
is a quick read that addresses some common parenting challenges.
Among the questions addressed in this book are:
How do we use rewards in a way that addresses the child's heart, points him/her to the Gospel, and glorifies God as opposed to merely modifying behavior temporarily?

What is the difference between a reward and a bribe?

How do we celebrate obedience rather than simply doing "damage control" for disobedience?

How do we find the balance between too much or too little discipline?

How do we set realistic expectations with our kids?

Are there times when we should "let things slide" and just "let kids be kids"?

How should we respond when our child tells us, "No!"?

How do we handle tantrums in toddlers and bigger kids?
Additionally, Sara shares
practical
tools that are serving her in her parenting journey including:
the benefits of utilizing structure and routine;

how using stories and "word bundles" can be beneficial alternatives to lecturing;

how to navigate sibling relationships, teaching children how to be peacemakers rather than peace breakers, as well as, how to show love and serve one another.
Furthermore, Sara raises some thought-provoking questions for her readers throughout the book such as: "
Who or what are you teaching your kids to fear?" and "
Are you offering your kids comfort that will persist throughout their entire lives?" A
t the close of each chapter, Sara includes questions and/or activities for reflection to help her readers apply the chapter's content.
Like many books, I found some chapters more helpful than others, and there were places where I didn't agree or would do things differently, but all-in-all, Sara Wallace has written a wonderfully encouraging book with much practical advice that will serve parents as they seek to faithfully run the race set before them, planting seeds for the Gospel all along the way. While I wouldn't consider this a replacement for some more foundational parenting works (like those mentioned above), I'm grateful that Sara has added this Gospel-centered contribution that is personal, winsome, and warm! Sara's heart for God's glory shines through on every page, and I am happy to commend this book to others for their edification.

*Many thanks to P&R Publishing for providing me with an advanced reader copy of For the Love of Discipline, offering me the opportunity to share my honest opinion regarding the contents!