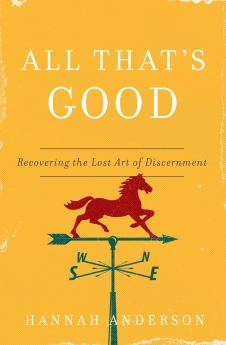 "How can we, imperfect as we are, develop an instinct for recognizing and embracing the good? How does discernment equip us to navigate a broken, complicated world with confidence and joy?" (13) These are the central questions that Hannah Anderson attempts to answer in her latest book,
All That's Good
. Her goal is not simply to tell her readers what to think but to shape how they think, and she desires to "lead you away from our common disposition to fear-based thinking toward a place of hope and abundance" (14).
Skillfully weaving stories and teaching together, Hannah Anderson's writing is a delight to relish! Rather than focusing on the evil from which we ought to abstain, Anderson directs us to focus our gaze on what is true, honorable, just, pure, lovely, and commendable as defined by Scripture, not as an end in itself but as a means to a greater end, namely, seeing and savoring Jesus Christ.These chapters are not intended to be exhaustive but contain thought-provoking insights which challenge the reader to think deeply about these adjectives.
Perhaps the section that ministered to me the most in this season of life was the last chapter in which Hannah was honest and transparent about how
the gift of discernment is "dangerous"
(see The Gospel Coalition article by this title for further explanation of this) and can lead the one who has it to feel incredibly lonely at times. She notes that, sometimes, the gift of discernment can feel more like a burden than a gift. Hannah Anderson writes:
"If your experience is anything like mine, you will quite possibly feel alone in this. Instead of relishing being the 'prophetic' voice, you'll agonize over it. If you truly have the gift of discernment, you'll also know the weight of what you are about to say. But because you see good and evil more clearly, you'll also see more clearly what's at risk, and like Jeremiah, even if you try to keep quiet, you'll find the weight of God's message stronger still...(209).
I know there have been times when I have sinned by silence and other times I have spoken in arrogance. I also know there are times when I have frustrated people by simply being a dissenting voice. I know some would prefer I be the proverbial meek and quiet female tasked with maintaining social norms. And if I'm honest, I'd prefer that too. As I've confessed to Nathan [hubby] on more than one occasion, 'I'd be anyone else if I could.' But at the end of the day, none of us can tell God that He has made a mistake in forming and gifting us the way He has" (pg. 182).
She goes on to write about the natural longing for communion and belonging that we have but how brokenness creeps in, even in the life of the church. But she doesn't leave her readers in that hopeless state but shows how Christ also suffered and how coming to the Lord's Table forces us "...to reckon with the fact that nothing else is good enough to draw us together. In coming together, we defy the brokenness and proclaim a greater, shared good" (pg. 184).
All That's Good
is not a "x"-steps-to-decision-making book. At times, the content will likely complicate your decision making process(es), but it will make you think about how you can glorify God as you seek to embrace the good of His creation. Like Hannah Anderson's previous books,
Made for More
and
Humble Roots
,
All That's Good
offers much food for thought and is a joy to read.